Star Members have their own area and set of private boards to post on. Access to those private boards is a

one-time payment of $40.00

and starts based on your date of payment. Becoming a Star Member is easy, just look at your

Profile

in the

User CP

(control panel) follow the links from

Actions

to

Lifetime Subscription

and you're set to go. Paypal is the standard form of payment and you don't need to be a Paypal member to use a credit card to subscribe.

Frankly, fishing in Westchester is an incredible opportunity to catch a variety of fish. Fishermen are generally good about sharing basic tips and information during the fishing seasons. Read the public forums to get an idea of what's possible in the Westchester area. The forums discuss many aspects of fishing in Westchester like; fly fishing, small local lakes, neighborhood ponds, bass fishing, trout fishing, the best spots to bring the kids, getting a boat onto a NYC reservoir, NYS rules & regulations, safety tips, how to get started, what gear is necessary, what gear is cool to have, nearby access in Putnam County, places nearby NY to explore,saltwater activity, ice fishing, bait & tackle shops, and a little bit of everything else.

Fishermen are not keen on just letting anyone with Google knowing how hot or active a reservoir may be. The private area is a place that veterans and advanced beginners can discuss more specific information.

When is the thermocline showing itself in Kensico Reservoir?
So, they were hitting live bait but not the artificial lures this week.
They stopped spawning and have gone away for a few weeks.
How should I place my new boat and in what area to get panfish?
When you jig for trout in that reservoir through the ice, what works?
Wow, John with another giant brown trout! Nice pictures! What did you use?
The bass are finally coming up to the shallows.
Join our Boat Watch System and let KenH help everyone keep track of members' boats.
etc., etc., etc.
Here's a quick screenshot of the forums that only Star Members see and can access: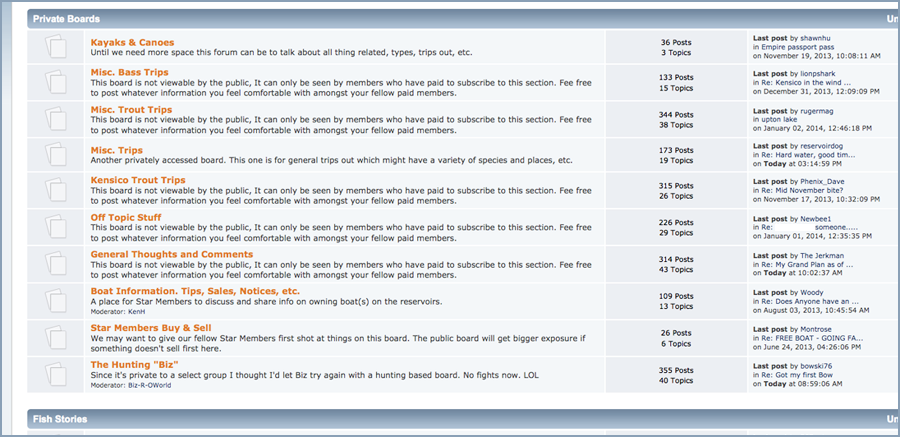 Thanks for reading and please use the "Contact" module on WestchesterFishing.com's main page to contact me with any questions or for more information.
We have a great group of family friendly members already and hope to see you here and on the water.


Best Always,
Vinny